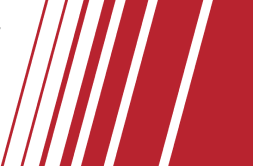 Bring your mates, your camping gear and move in for 4 days of extreme horsepower partying.
All campers must have a Season Pass and a Camping Pass. This includes General, Platinum, Entrant and Buddy Season Passes.
Anyone aged 16 and under planning to camp, MUST always be accompanied by a responsible adult.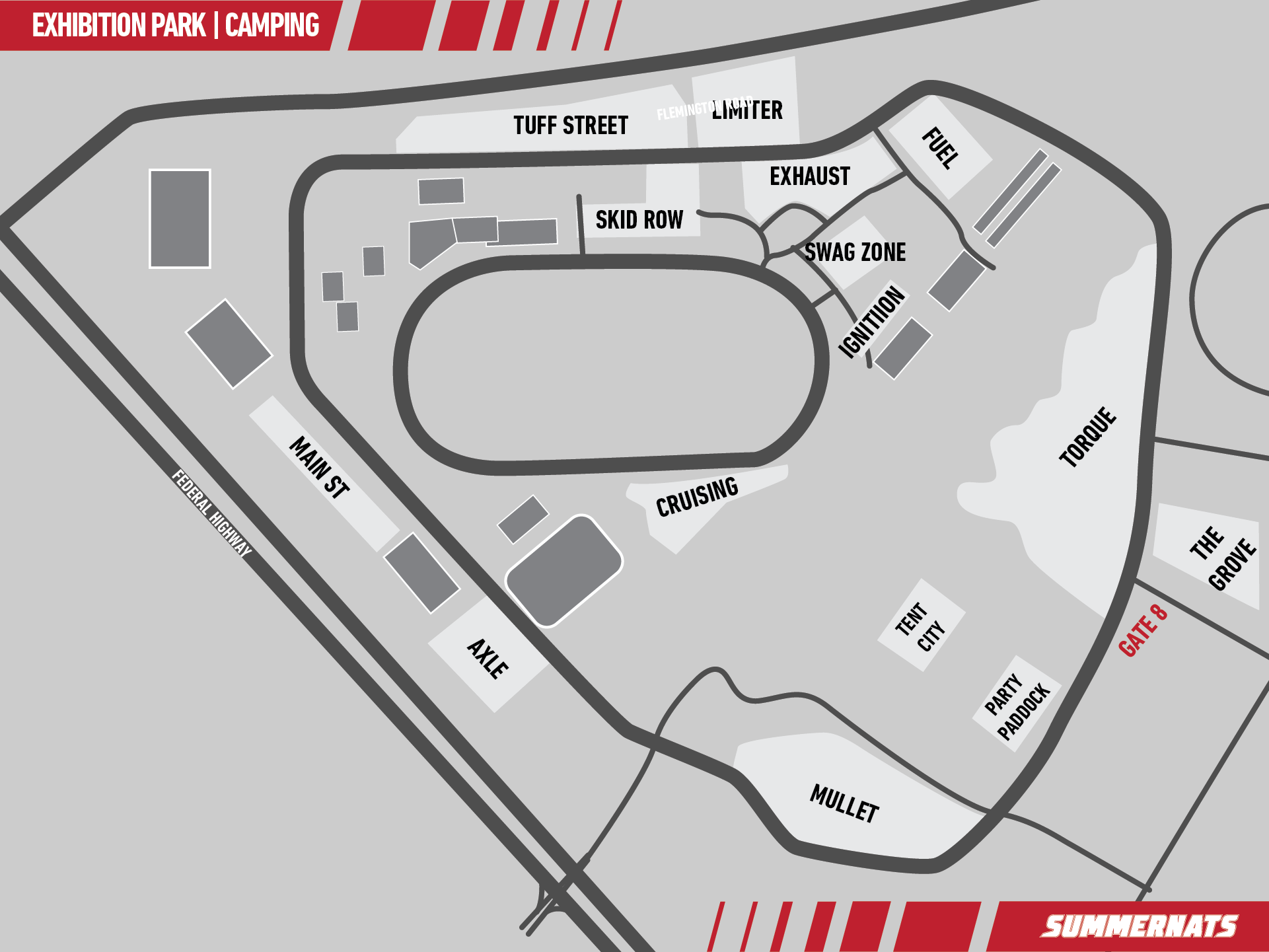 THE GROVE
Generous 8m x 6m grassed sites are suitable for caravans, mobile homes and camper trailers. Permanent toilets and showers are across the road in the Torque camping area. Water taps are available to share between 4 sites and generator power is supplied. Very close access to Gate 8.
SWAG ZONE
Tucked in behind Tuff St and the Burnout Grandstand you'll find the Swag Zone. This area is perfect for those who like to keep it simple but stay close to the action. Sites are 5m x 6m and have permanent toilets and showers. Limited water and power available. No vehicles are permitted in this area. The shuttle bus service from the gate to get you settled in.

TENT CITY
Fuss free camping. We'll do all the work for you. Overlooking Burnout Hill and only a few steps from Drifting. Food and bar facilites close by. Each Tent is set up with either 2 or 4 stretcher beds. 4 person tent sites are 8 x 5m, and 2 person tent sites are 5 x 4m. Permanent shower and toilet facilities. No vehicles are permitted in Tent City. Take the shuttle bus from Gate 8 to your site.
PARTY PADDOCK
One of the most popular campgrounds at Summernats. These sites are huge. Great access to the Cruise Route. Backyard walking access to Burnout Hill and next door to Drifting. Suitable for groups of 4 or more and an ideal location for marquees. Sites are 10m x 6m on flat grassed ground. Permanent toilets and showers, accessible facilities included.
CAMPING FREQUENTLY ASKED QUESTIONS
You must purchase an admission ticket in addition to your campsite ticket.
All vehicles must display a valid access pass to access the campgrounds.  
Vehicle passes must be purchased for non-entrant vehicles.  
Camping vehicle passes are for static vehicles.  
Camping vehicles are not permitted to move throughout the venue.
There are a number of camping locations at Summernats. Some locations are for entrants only and others are for spectators.
Subject to availability, campers can book campsites at one of the following campgrounds:
We will be charging a removal and cleaning fee to the group contact. No questions asked.
Our crew are super busy after the event packing down the venue and we don't want to have to worry about removing that old couch you found on the road on the way to the event.
Great news! We are implementing new shuttle bus services. More details on timings and locations of shuttles will be sent to campers closer to the event.
No, marquees are for entrant camping areas only.
Barlens is our preferred and recommended supplier.
Contact them for a quote: (02) 6206 2020
Each site includes camping for one person. All additional campers must purchase a camping pass.
Flag down a security or event staff.
No, you'll still need to grab a Season Pass from our ticketing website.
Yes! We have a limited number of sites suitable for caravans, motorhomes and campervans. You will need to purchase a camping vehicle pass as well as a Campsite Ticket. Please make sure you put in your vehicle size on the bookings page to see the sites suitable for your vehicle. Dump spots for sullage is located at Torque campground. No caravans are permitted to have waste water running onto the ground.
Assistance dogs to support disabled patrons are allowed. No other animals are permitted.
Children 10 and under are free to camp with an adult. Youths aged 11 – 17 need their own camping pass.
No, large appliances overload the electricity supply, that can lead to area wide outages (Goodluck keeping those snags cold if that happens!)
Fridges are permitted under 180L
Microwaves and Air conditioners are not permitted.
Some sites have power, but not all of them. To know if your site has power, please review the description of the site prior to booking.
If your site does not have power, there are communal areas for charging up phones. Don't be that person that hogs all of the power.
Get in touch with our friendly camping staff and we will find an area suitable for you.
No. Generators are not permitted inside any camping areas.
No. As per the 'Terms of Entry' fuel is not permitted onsite. There is a fuel depot onsite.
Yes, gas barbeques are permitted. Gas burners are also allowed for cooking and BBQ's.
If you're bringing a gas cylinder it must be in date.
No. No open fires. Our fire crew need to be at the burnout pad, not at your campsite.
There are accessible shower and toilet facilities located in Torque, Party Paddock, Tent City and Ignition.
Some sites are not suitable for wheelchair access, especially during inclement weather.
If you do require an accessible area, please let our friendly camping crew know when booking so we can arrange for you.
Gates open 8AM on Thursday. No earlier. If you are scrutineering on Wednesday, you'll need to seek alternative accommodation for the evening.
Yes! Please note glass jars are limited to small jars only. Remember, no alcohol or commercial quantities of food.
Yes, however you need to take it with you when you leave. As mentioned in the Camping Terms and Conditions, if you leave any items on your campsite we will be invoicing you for a removal fee.
We have a few oversize camping spaces for trucks, transporters, buses and goosenecks.
If you do not book an oversize camping site, you'll need to leave your oversize vehicle in the designated area outside the event precinct. We simply don't have the room.
Note, any item below that is confiscated will not be returned at the end of the event. The items listed below are in conjunction with the Event Conditions of Entry.  
Alcohol purchased outside of Summernats event grounds
Illicit substances and paraphernalia, including unidentifiable substances.
Canisters of Nitrous Oxide or CO2
Fuel of any type
Glass bottles
Motorcycles
Motorcycle club colours
Flares, fireworks, explosives or any fire twirling equipment
Weapons or explosives of any description
Fires, candles or open flames
Airhorns / sirens
Generators
Protest paraphernalia and banners
Any clothing that could be mistaken for event personnel including hi-vis
Pools and Spas
Professional photography equipment
Drones or any other remote-control devices
Clothing bearing any racist language or images.
Skateboards, scooters, roller-skates, bicycles, motorbikes, segways, hoverboards – motorised or non-motorised.
Golf carts or any personal motorised vehicles  
Motorised eskies
Gas bottles heavier than 9 kilograms (inclusive of gas)
Kettles, toasters, fridges over 180L
Furniture that is not willing to be taken home
Platforms, structures or materials to be used to erect platforms or other viewing platforms
Anything that the event organiser reasonably considers will obstruct the view or jeopardise the safety, comfort or experience of other patrons
Animals other than animals recognised as assistance animals under the Disability Discrimination Act 1992 (Cth) - Summernats and/ or Security Guards may request evidence.
Lasers
Loud Hailers / Megaphones
Spray cans of paint
Any other item that Event Personnel consider illegal or dangerous